Back
Thursday, December 6, 2018
Furman Now Shipping SS-6 Power Conditioner and 25' Power Cord
CARLSBAD, CALIFORNIA — Reinforcing its commitment to provide music industry and pro audio professionals with innovative power protection solutions, Nortek Security & Control LLC today announced that it is now shipping the new Furman SS-6 Power Conditioner and the ACX-25 Power Cord.

"Furman Pro Plugs have a long history protecting what's important on stage as well as on the jobsite," said Nortek Security & Control Power Product Manager Christos Desalernos. "With surge protection, noise filtration, and diagnostic lighting, the Furman SS-6 provides reliable, clean, and protected power in a versatile form factor."
The Furman SS-6 is a black steel chassis floor strip power conditioner that serves as a narrow form factor version of the top-selling SS-6B, with standard surge protection RFI/EMI filtering. Including six outlets, the SS-6 comes with a 15-foot captive cord and features a line voltage of 120V, a current rating of 15 amps, and a safety listing of cULus. Designed to extend the protection from a power conditioner like the SS-6, the Furman ACX-25 is a discreet, 25-foot power cord that provides ultimate durability and longevity with a line voltage of 120V, a current rating of 15 amps, and a safety listing of cULus.
"The primary market for these products is the music and live sound industry, which demands that power protection products be durable yet hidden so as to not take anything away from the performers," Desalernos added. "That's why both the SS-6 and ACX-25 come in all black."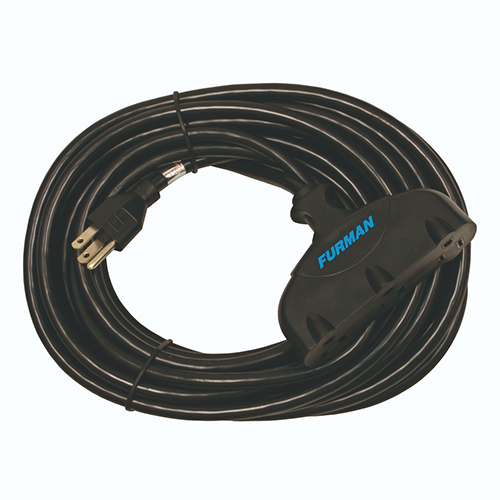 The power conditioner is not limited to music professionals, however. For residential custom installers, the compact form factor of the Furman® SS-6 makes it ideal for applications within a credenza or in the back of the rack. And the ACX-25 Power Cord is a convenient tool for installers as well as help manage large power supply transformers, such as wall warts, and to extend protected power up to 25' from the power conditioner. "Furman is known for versatility and reliability," Desalernos concluded. "No matter the application, users can be confident that their equipment is protected."
About Furman
Furman® is legendary for developing award-winning, innovative power management products. Furman power and energy management products give audio/video systems the pure, noise-free power they need for superlative performance while protecting them from damage caused by power surges and lightning. The brand addresses all major electronic markets, including professional audio and video, the music industry, broadcasting, audio/video recording, office equipment and home theater.
About Nortek Security & Control
Nortek Security & Control LLC (NSC) is a global leader in smart connected devices and systems for residential, security, access control, and digital health markets. NSC and its partners have deployed more than 4 million connected systems and over 25 million security and home control sensors and peripherals. Through its family of brands including 2GIG®, ELAN®, Linear®, IntelliVision®, GoControl®, Mighty Mule® and Numera®, NSC designs solutions for national telecoms, big box retailers, OEM partners, service providers, security dealers, technology integrators and consumers. Headquartered in Carlsbad, California, NSC has over 50 years of innovation and is dedicated to addressing the lifestyle and business needs of millions of customers every day. For further information, visit nortekcontrol.com.
Other brand names and product names mentioned herein may be the trademarks, tradenames, service marks or registered trademarks of their respective owners.
Back